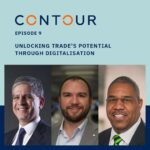 Many financial institutions have invested in technology and jumped on the digital bandwagon, but when will we see critical change in the digitalisation of trade finance processes?
Listen to the discussion with our special guest:
Tod Burwell, President and CEO of BAFT
Carl Wegner, CEO, Contour
Moderated by Josh Kroeker, CPO, Contour
To watch the video recording, click on the media player below.
A breakdown of the topics:
1:32 – The underlying business goals of digitalization
3:42 – Highlights of the white paper 'Code is Not Law'
6:14 – What's driving banks to digitize amid current challenges?
9:35 – What's driving corporates to digitize international trade processes?
12:38 – Why digital trade is the next frontier in economic development – Financial inclusion, improving KYC
15:24 – Hurdles to driving digital adoption and where banks and fintechs stand on the challenges
17:14 – The role of BAFT in driving digital adoption
20:34 – Objective of the Distributed Ledger Payment Commitment (DLPC)
23:26 – Why interoperability is needed across multiple industries and systems
25:09 – How banks and corporates, including SMEs, can connect to Contour
27:04 – Why digitization is important for SMEs and MSMEs
34:23 – How banks can provide for SMEs
32:34 – The intersection of ESG and sustainability with digitization
36:53 – When will we see the tipping point of trade digitalization?