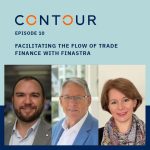 Contour and Finastra recently announced a strategic collaboration to better facilitate the flow of trade finance. What can banks and corporates expect from this partnership? And why do technology players need to collaborate to accelerate digitisation?
The answers can be found in this episode with our esteemed speakers:
Elena Sankova – Global Solution Consultant and Head of European Transaction Banking Pre-Sales, Finastra
Joshua Kroeker – Chief Product Officer, Contour
Moderated by Daniel Cotti – Founder and CEO of Cotti Trade & Treasury
To watch the video recording, click on the media player below.
A breakdown of the topics:
1:10 – Why digitisation is crucial to improving access in trade finance
2:45 – The common pain points faced by FIs
5:05 – How collaboration between Contour and Finastra can reduce the pain points
8:30 – The role of Finastra Trade Innovation (FTI) and how the Trade Network Connector links back-office workflows with Contour
11:24 – How integration standardises Letter of Credit processes to ease banks' and corporates' user experience
16:00 – Driving adoption and scaling the ecosystem by integrating solutions